Sisyphus Energy Partners
Sisyphus Energy has partnered with experts in the science and technology of superconducting magnetic levitation and experts in high-tech engineering and fabrication.
Experts in Science and Technology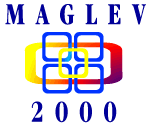 MAGLEV 2000 is the company formed by the inventors of superconducting magnetic levitation technology.
MAGLEV 2000 was formed to develop and commercialize the revolutionary inventions of Dr. James Powell and Dr. Gordon Danby. Maglev 2000 brings together a world-class team of experts for the purpose of deploying maglev, the transportation system of the 21st century. The Company has received significant Federal and Florida State funding and has already completed much of the research and development necessary for worldwide deployment. Moreover, It is the only American company which offers American superconducting maglev technology.
MAGLEV 2000 has licensed the superconducting magnetic levitation intellectual property to SEI. Dr. Powell and other MAGLEV 2000 scientists are providing continuing scientific and technical consultation to SEI.
Experts in Engineering and Fabrication

Oak Ridge Tool-Engineering, Inc. (ORT-E) is an Oak Ridge engineering and fabrication company.

The area's concentration of major high-tech companies, ongoing research and development, and Oak Ridge National Laboratory further strengthens ORT-E's competitive advantage and greatly benefits its customers. The operation has access to a tremendous pool of talented engineers, scientists, and inventors, many of whom are on call to meet the needs of ORT-E's diverse international clientele. ORT-E's mission is to engineer and manufacture high precision and "delivery critical" special tooling, jigs, fixtures, mechanical equipment and short run production for the Aerospace, Defense, Energy, Automotive, and Commercial Markets. Its goal is to provide the highest quality precision tooling, machining, fabrication, engineering, manufacturing, and testing, on-time, every time.

ORT-E will provide the engineering and fabrication services to build, install and test the Sisyphus systems.